THE SABBATH WORLD:
Glimpses of a Different Order of Time
(Random House, 2010)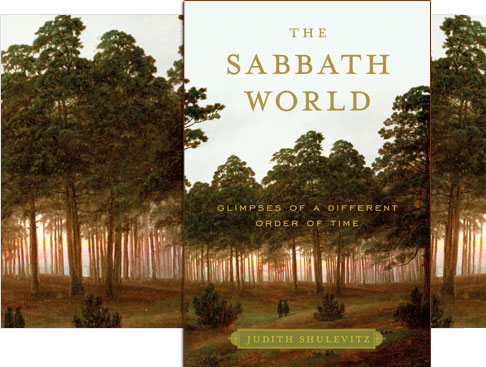 "Enormously interesting."
–The New Republic
"The Sabbath World is not merely riveting, wise and at times breathtakingly beautiful, it just might change your life."
—Jonathan Safran Foer
Recognition
The New York Times 100 Notable Books for 2010.
One of five best nonfiction books of 2010, according to the Jewish Daily Forward.
Finalist, National Jewish Book Award.
The American Library Association's 2011 Sophie Brody Medal for Jewish Literature.
Seen & heard
In conversation with James Carroll (author of Constantine's Sword) at the Templeton Book Forum at the Harvard Club of Manhattan.
More clips from that conversation on YouTube.
Kudos for THE SABBATH WORLD: Glimpses of a Different Order of Time
From The New Yorker: "When Edmund Wilson set out on his various intellectual spelunking adventures, he would say that he was 'working up' Hungarian poetry or Russian revolutionaries, the literature of the Civil War or Iroquois culture. Judith Shulevitz, a deeply intelligent journalist in her forties dissatisfied with the frenzied quality of modern life, decided to work up the tradition and practice of the Sabbath, the day of rest. It is an intellectual quest fired by a fierce desire to know, to change her life. Shulevitz displays her learning not to show off but to bring the news to an audience that she suspects has, like her, lost touch with the great tradition. In personal terms, and without sanctimony, she explores the history of the Sabbath, its philosophical foundations, its consolations, its purposes, and, in doing so, writes a swift, penetrating book intent on shattering the habits of mindless workaholism and the inability to recognize the blessings of rest, reflection, spirit, and family."
From the New York Times Book Review: "Shulevitz 'remembers the Sabbath' not by obeying its laws but by drawing on her autobiography to explain why the subject engages her. Harnessing her personal ambivalences and quirks, she has written a book of richness and depth. I suspect that I am not the only reader who will find her enlarged vision of the Sabbath as an idyll 'wherein my spirit could safely wander' to be both riveting and moving."
From the Los Angeles Times: "What a brilliant idea. … Part history, part meditation, the book delves into the Sabbath in Judaism and Christianity while invoking a wealth of nonreligious sources, from William Wordsworth to Sigmund Freud. Ultimately, The Sabbath World suggests, the Sabbath offers a way to live outside of time, even for a day a week — an act not just of renewal but of resistance in an obsessively over-scheduled and over-networked world."
From The Atlantic: Judith Shulevitz's wonderful new book, The Sabbath World: Glimpses of a Different Order of Time, is part of a small set of books that have helped me situate myself as a Jew and as a person…This is not a book merely for practitioners of Judaism — it is for anyone who is looking for transcendence within the confines of the time and the space that we have been granted. Also, as a bonus, The Sabbath World is gorgeously-written; Judith is one of those writers who is fighting against the technology-driven movement that, in the words of Hanna Rosin, turns words into widgets. —Jeffrey Goldberg
THE SABBATH WORLD is available at these online stores: